Translating Your Resume (CV) in Singapore
Your resume (or CV or Curriculum Vitae) represents your professional path. Therefore, it is important to ensure that the writing is of the utmost quality.
We offer accurate translations by highly qualified translators who will help make your resume even more impactful and effective. Indeed, our team includes translators who specialize in the translation of resumes. They will translate and adapt your resume to the target culture. All information contained in your documents and their translation will be treated as confidential information.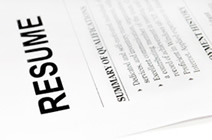 Translating your resume or Curriculum Vitae implies adapting your skills and experience to a target country by finding the correct equivalent for your diplomas or titles, for instance. That is why our translators may need to ask you more questions. Indeed, during the translation process, we may need to communicate with you to obtain more information on your previous jobs or diplomas. In order to ensure that the translation is accurate, our translators will sometimes need a more detailed description.
Having your resume translated is an essential step in advancing your career nationally or internationally. You can be sure that our translations will accurately reflect what you wished to convey in the original version. In trusting our team with the translation of your resume, you will be opening the door to new markets and new opportunities.
Both the format and content of your resume will be adapted to suit the norms and culture of potential employers.
Some Suggestions for your Resume or Curriculum Vitae
The appearance, layout, subdivisions and major elements of a resume vary from one country to another. Here are some of the key elements in creating or adapting your resume for a specific country.
Resume Tips for Countries in the European Union:
European Resume Examples:
https://europass.cedefop.europa.eu/fr/documents/curriculum-vitae/examples
English Resume for England
Resumes must mention extracurricular or non-work related activities. It is better not to mention the names and addresses of previous employers who are able to give an account of the professional skills and achievements of the applicant. It is, however, possible to indicate "references available upon request."
Canadian French Resume for Canada and Quebec
Things to not mention or add in a resume for Quebec:
Age;
Family status;
Canadian status (permanent resident, work permit, etc.);
Military service (unless it is directly related to the job you are applying for);
Photographs;
Social Insurance Number
Even if resumes differ from one country to another, a standard resume is increasingly found in the European Union.
Mandarin Resume for China
Resumes should be 1 to 3 pages long. It is advised that they be no longer than two pages, except in the case of a highly qualified profile.
Japanese Resume for Japan
The Japanese resume is a two-page form that is bought in a store (stationary shops, convenience stores, 100 yen shops) and filled out by hand.
English Resume for the United States
In order to be effective, an American resume must be concise, clear and accurate:
• Concise: 1 to 2 pages maximum
• Clear: the recruiter must be able to immediately determine what job is being applied for, possibly indicated by a short statement at the beginning.
All of these resources will advise you on the page layout to follow and the elements to include in order to present yourself according to the rules of your country of interest. It is also important that your resume be well written – do not overlook its translation.
Quote request
Upload your document(s) and we will send you a free quote.