Resume/CV Translation for an International Job in Singapore
To get the best from your CV/Resume, there is a need to tailor-make your document to the organization and positio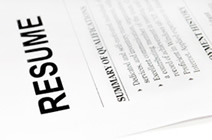 n you are applying to. As such, we need to adapt your CV/resume to your skills and past working experience by ensuring that your certificate corresponds with that of the country you intend to work.
Throughout the translation process, we may need to contact you for additional details about yourself so that our translators can give you an apt translation of our CV/resume.
Translating your CV/resume is a vital step in advancing your career either at the national or international level not altering your original intention about your CV. You can rest assured that our team of expert and experienced translators will translate your resume to help you open new doors of opportunities at new markets.
We ensure that both the format and content of your resume will be suitable for the culture and norms of your impending employers.
Free Quote for CV or Resume Translation in Singapore
Please do not hesitate to contact us for a quote or for any additional information on translation or interpretation projects – we will answer you within 24 h.
Contact & quote requests  : email@asiatis.com.sg
Recommendations for your Resume/CV
The layout, appearance subdivisions and significant elements of resumes differ from one country to another. Below are the critical factors in making your resume suitable for a particular country;
Resume Tips for Countries in the European Union
European Resume Samples:
https://europa.eu/europass/eportfolio/screen/cv-editor?lang=en
English Resume for England
When adapting a resume to suit England application, it is imperative to include extracurricular or no-work related activities to win the employer. It's advisable not to refer to the names and addresses of former employers who cannot account for the professional skills and achievements of the employees. Another alternative is to indicate that references are available on request.
Canadian French Resume for Canada and Quebec
What to exclude in a resume for Quebec:
Age;
Family status;
Canadian status (permanent resident, work permit, etc.);
Military service (unless it is directly related to the job you are applying for);
Photographs;
Social Insurance Number
Regardless of the varying degrees of resume from one country to another, demand for a standard resume is on the rise in the European Union
Mandarin Resume for China
The number of pages required for a resume is usually between 1-3 pages. It's advisable not to keep it more than two; an exception is the case of a highly qualified person.
Japanese Resume for Japan
The Japanese resume is a two-page form that is bought in a store (stationery shops, convenience stores, 100 yen shops) and filled out by hand.
The Japanese have a two-page standard format for resume sold in stores (convenience stores, stationery shops, and 100 yen shops.) It's usually filled with handwriting.
English Resume for the United States
An American resume should be concise, clear and precise to be effective
• Concise: maximum of 1 to 2 pages
• Clear: the recruiter or HR must be able to immediately understand what position the applicant is applying for, best indicated with a short statement at the beginning.
It's best not to underestimate the necessity of resume translation. Your resume must be well-written and correctly translated. It must also follow the rules of your country of interest. All our resources are there to guide you on the page layout to follow and what elements to include on not to ensure your resume's suitability to the intended country.
OUR CLIENTS